You're probably fed up receiving emails about how you can get rich quick through affiliate marketing – I know I am. Pay $10 or whatever and you'll get an ebook showing what they did and how you can 'copy and paste' your way to success…. blah, blah, blah
Well, it doesn't work like that and the only person getting rich will be the person selling the useless information.
But the thing is, you can make money from affiliate marketing. Good money. The kind that means you can quit your day job.
So, today I'm going to share with you exactly what I did to take a one product niche affiliate site from 893 visitors and $0 a month to 13,597 visitors and $3,934 a month in just 6 months. And the good news is, if you put the time in, you can do it too!
Oh, and just to be clear… all that traffic was free traffic from google's organic search results. The only cost the site has is hosting at around $50 per month (I use Rackspace cloud hosting, which is not the cheapest, but worth every cent in my opinion).
And one final thing before I go on… everything I teach is 100% white hat. No dodgy tricks. You'll be building a high quality affiliate site that will rise up the search rankings and stay there, no matter what the next google update brings.
A Little Bit About Me
Firstly, let me tell you a bit about myself.
The reason I think this is important is that I want you to be clear that everything I did to build the site and revenue can be done by you.
I have 20 years experience in internet marketing and SEO.
Is this an advantage? Yes.
Is it what made me the money? No.
Well, at least not directly. Even if you have no experience on the web it shouldn't be an obstacle to building your own high quality affiliate site earning good revenue if you follow my advice and put the work in. And it will take work… there ain't no copying and pasting here!
Actually, let me caveat the above by saying that the bulk of the work will be in that initial 6 month period. I now spend about 20 hours a month on this particular site and it continues to bring in solid revenue month after month.
Choosing Your Product
Ok, first things first. You need something to promote. So, how should you go about choosing the product for your niche affiliate site?
Here are my few golden rules, which I'll expand on in a moment: –
The product has to be popular

The product has to be at a decent price point
The product should be available from a number of retailers (with affiliate programs)
The product shouldn't be oversaturated in the affiliate space
So, let me go into more detail.
Popularity
There's no point promoting something obscure that no one is interested in buying. Sure, you can make a few bucks by going for a micro niche, but for the real revenue you want something mass market.
So how do you find this golden product? This commission generating monster!
Well, you might be lucky and have experience of a popular product from a previous/current job.
This was the case for me with this particular site. I used to be a retailer of the product, so I knew how popular it was, but that doesn't really matter in a way. It's quite simple to find popular products to promote whether you have experience in the niche or not. Here is one of the best ways!
Amazon Best Sellers
Amazon is one of the biggest retailers on the web with UK sales alone of over £3 billion per year. They also have a pretty sweet affiliate program, which offers up to 8% commission!
So, if a product is popular on amazon, you can be pretty certain it's going to sell well. But how do you find the popular products?
Well, the good news is those lovely folks at amazon tell you!
Here's how to find the golden nuggets!
First, navigate to a subcategory. In this example I have chosen 'car seats and accessories' in the Baby department.
On the left hand menu there will be a link for 'best sellers' (shown above).
You'll now get a listing of the best selling products in the category, ordered by popularity. And if a product is in the top 10 sellers in a category on amazon, then it's safe to assume the volume is there to start promoting it!
So, it's easy to find popular products, but here is where the other golden rules come in.
Price
The most popular product in this category happens to be a back seat mirror priced at £8.95.
At say 6% commission (amazon operates a sliding scale of commission from 5-8% based on volume) that's going to give us about £0.44 per sale (you earn commission on the net amount). Not great, we're going to have to sell a lot to make any decent money.
So, how about the third most popular product, which is a car seat at £84.95? Well, at 6% commission we're going to make £4.24 per sale – much better!
For me a product at just below the £100 mark ($150) is ideal as it's enough to net you a good commission, but not too expensive that you will have to work mega hard to achieve any sales.
Oversaturation
So, you have a product (or a few related products – say the top 6 car seats), which it could be worth building a niche affiliate site around. Next, you'll need to check whether the market is already oversaturated.
If you are looking to promote iPads for example, you're going to find huge competition and you are going to have to work extremely hard to achieve any sort of rankings. So do your research and take your time to find a niche that hasn't really been fully exploited in the affiliate space yet. Trust me, they do exist!
There is of course a balance between finding a niche that you can exploit and also finding a product that will be popular enough to get the volume you require to make the site a lucrative proposition. Car seats was a good example as they will always be in demand – after all people are going to keep having babies, no matter what happens to the economy!
So, that's some pointers for how to choose your product. Back to the story of how I grew my own niche site!
Month 1 (June 2012).
The site had been up for a few months, but at this point was basically was just full of placeholder pages (getting about 5-10 visitors a day). June was the first month where I started to proactively work on the site, build traffic and monetise.
My affiliate site runs on a custom CMS system I have designed, but for your own site you can use wordpress, or your preferred content management package.
Ok, so a little bit about the product I had chosen to base my site around.
It is a high volume product in the fashion/beauty niche with sales of around £150million per year and a retail price point of just under £100. It sells very well online – I know because I used to sell it.
One of the most effective ways of monetising a niche affiliate site is to offer price comparison for a product. If you can presell it with a great review and then tell the customer where they can buy it for the cheapest price, then your clicks are going to convert extremely well.
So, I decided that each of my product pages (there are around 10 variations of the product) would have the best review on the internet and an up to date price comparison table for 6/7 of the top retailers.
I have bolded 'the best' for a reason.
June was spent pretty much putting together highly detailed product reviews for each of the 10 products. Each of the reviews runs to 2,000 – 3,000 words and covers everything a consumer would want to know about the product.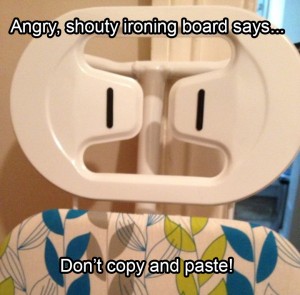 How did I write these reviews?
Well, I know the product to an extent from selling it, but as a man whose morning regime involves rolling out of bed, into the shower and out the door in 5 minutes, fashion/beauty is obviously not something I can write about from personal experience!
So, I did a lot of research.
I took one product variant at a time and trawled through google and firstly collected all the features and technical specifications for the product. Next I read every review I could find – good and bad (honesty is a good thing). I watched youtube videos. I read what bloggers had to say. I read and read and read until I felt like I was an expert on the product myself. And only then did I start to write…
And I say write because writing is what I did. Not copying. Not scraping. Not spinning. Writing.
I had researched the product to such a degree that I knew everything about it and could speak/write on it as an authority straight out of my head. It was easy for me to sell the product as I knew all the pros and cons like the back of my hand.
I repeated the same laborious research process for each product variant until I had detailed, lengthy, compelling reviews for each of them.
I didn't start writing with a word count in mind, but as I mentioned above, each of the reviews ended up running to between 2,000 and 3,000 words.
The great thing about content this length is you will naturally use lots of different combinations of keywords and phrases without even having to think about it.
Keyword research is valuable in certain situations, but in general I am a firm believer in write for your users, not the search engines and the recent hummingbird update from google has certainly rewarded those who write in this way.
Google indexes text and with my 10 detailed product reviews in place I now had between 20,000 and 30,000 words on my site. By the end of the month, this increased text content alone was enough to lift my traffic from 5-10 visitors a day to around 40.
So here are the stats for June: –
Unique Visits: 826
Commissions: £72.71 ($115)
Month 2 (July 2012)
So, I had a few sales and visits. It was time to up the stakes!
I'm a big believer in the content is king mantra, so I added a blog section to the site and started to add supporting articles. This is where you can really start to build traffic and also push visitors to your money pages (or directly to an affiliate offer).
What sort of content works well?
Problem/Solution
Well, the tried and tested method of identifying a problem and offering a solution has been used in marketing for years and there is a reason why. It converts!
Let's say for example your affiliate site is promoting a teeth whitening kit. You might write an article titled something like: –
'How To Get Whiter Teeth In 30 Days Without Visiting The Dentist'
I added the bit at the end as people hate visiting the dentist right?
Your blog articles should not be sales heavy. Gain the trust of the reader by offering high quality content which addresses their problem and then just drop a few well placed links to either the product directly, or to your review page. First and last paragraphs work well.
You should of course make sure your articles are well written, detailed, offer real value and are truly unique.
Just as I did with my reviews for my blog posts I conducted detailed research and then wrote my own articles, making them the best for their particular topic on the web. If for example a post was a tutorial, you can bet it was the most detailed tutorial on the web!
For more on writing articles/content have a read at these posts.
One post in particular that I spent a lot of time on and continues to be one of the most popular pages on my niche site was a detailed buying guide for the product.
The post is about 3,000 words long and really goes into fine detail of what you should look for when choosing the product, the differences between the various models, the benefits of buying online etc. Since I had done so much research when writing the individual product reviews this was easy for me to write… I had become a genuine expert on the product!
All in all I posted 11 blog posts on the site in July, with each one running to a minimum of 600 words.
Some Initial Links
I'm not a big fan of 'building links' any more, preferring to take a holistic approach of building great content, networking etc (more in my article about white hat link building), but to get this site off the ground I would have to come down from my moral high ground to an extent and build a few initial easy to get links.
I pretty much just submitted the site to a few higher quality general and blog directories, picking up maybe a dozen or so links.
I also dropped a few into other sites I have access to in the same (or similar) niche, perhaps another half dozen in total.
Finally I commented on a few blogs which had commentluv enabled to create links back to some of my blog posts.
And that's it. Maybe 30 or so links in total over the month. Not the ones that would start to bring me real traffic, but enough to get a few more eyeballs to the site.
So in July I had: –
Created a blog and added 11 articles

Built 30 links to the site

Continued to update pricing information for the products
By the end of the month the site was getting around 100 visitors a day from google. Here's the vital stats: –
Visits: 2,283 (up 224%)
Commissions: £245.44 ($391) (up 237%)
Month 3 (August 2012)
Work on site in August continued in much the same way it had done in July. I continued to create new content for the blog section of the site and added a further 11 articles.
With regards to the blog, I experimented with topical content this month, i.e. basing content/tutorials around current news events. One of the articles for example was based around the opening ceremony of the Olympics.
This type of content is good for bringing in short term traffic, but normally doesn't have the longevity of tutorial/problem based content. It's always a good idea to have a mixture of topical content and 'evergreen' content on your site.
I also started on my preferred method of proactive link building; guest posting.
Guest Posting
There is some debate in the SEO community about whether guest posting for links is white hat/grey hat and whether links from guest posts will continue to pass authority and help your site's search engine rankings.
I've written extensively on the matter in the past, but to summarise I believe that when done right, guest posts are still a good, clean way to build links and promote your site to new audiences. For more on my thoughts and how to get the most out of guest posting, have a read at the following article: –
I secured 2 guest post slots in August, each of which had a branded link (i.e. nameofsite.com) to the home page of the site in the bio box and a contextual link to a product review page in the body.
So what did this do for my traffic?
Well, by the end of August I was averaging around 125 visitors a day. So growth had slowed slightly, but was still on the right curve… i.e. an upward one!
Here are the stats.
Unique Visitors: 3,164 (up 38%)
Commissions: £277.52 ($442) (up 9%)
Month 4 (September 2012)
I continued to create fresh content for the blog, although this had slowed from previous months as I focused more on off-site SEO. In total I added 3 new blog articles over September.
I picked up the pace on guest posting and secured 5 guest post slots on good quality sites in my niche. 2 of these posts were secured through myblogguest, which is a fantastic service for connecting those offering content and sites offering a home for the content. It speeds up the process of finding sites that will be interested in your content and outreach somewhat.
[box style="note"]Update 19/06/2014: Unfortunately google took (unwarranted) action against MyBlogGuest, so it is probably no longer an effective way to secure guest posts for your site. Read more about it
here
.[/box]
Natural Links
The really good news this month was that the site was starting to gain some natural links, primarily to the high quality content (blog) pages I had created.
Quite a few of these links were nofollow, coming from sites such as ehow, however, I am a firm believer that these links, while not passing pagerank directly, help to increase your site's trust by giving you a natural looking link profile.
Note: This is why it is so important to create, unique, high quality content with real value. It might take a little time, but if it is good enough the content will eventually start to pick up editorial links on its own and these are the links that will truly see your site rocket up the search rankings.
I also managed to get a link to stick on the main page for my product on wikipedia (I put it there), again good for trust in my opinion 🙂
Traffic continued to grow and by the end of the month I was averaging about 180 visitors a day… but this was about to take a bit jump! My commissions also pretty much doubled, which was pleasing!
So September in a nutshell was: –
3 new blog posts

5 guest posts

some natural links

a wikipedia link
And the stats were…
Unique Visitors: 4,047 (up 28%)
Commissions: £560.36 ($894) (up 101%)
[signup]
Month 5 (October 2012)
As we moved into the final quarter of the year, things were really starting to happen.
Right at the end of September my traffic had taken a jump above the 200 visitors a day mark and it continued to grow through the month, smashing through 300 visitors a day on the 22nd and staying up there for the rest of the month (peaking at 329 on the 24th).
I didn't do much on site blogging this month, just adding the one article, but there was a new product variation launched, so I wrote up my detailed review, added the page and also created a couple of guest posts based around it.
Overall I secured a further 4 guest posts over the month and continued to pick up some editorial (natural) links.
The increased traffic was of course meaning increased commissions and by the end of the month I was averaging about £30 a day.
October's stats: –
Unique Visitors: 7,156 (up 77%)
Commissions: £824.29 ($1315) (up 47%)
A Quick Recap
Before I go on to November and December (which is where the real kerching happens!), I thought it would be good to do a quick resume on the work undertaken (with timings) and growth in the first 5 months.
Work
Set up site for new format (8 hours)

Created detailed product reviews on each product (6 hours per product = 66 hours)

Created price comparison tables for each product (1 hour per product + 2 hours per week updating = 51 hours)

Published a total of 26 blog posts (2 hours per blog post = 52 hours)

Built around 30 initial links (directories etc) (16 hours)

Published 11 guest posts (with links) (3 hours per post = 33 hours)

Fiddling about with the design of the site (8 hours)

Attracted editorial links (through high quality content) (n/a)

Got link on wikipedia page for the product (1 minute!)
Total time spent: 234 hours and 1 minute.
I told you it wasn't a copy and paste method!
If we split that into normal working weeks (i.e. 40 hours) we are talking 5.85 weeks worth of work, so let's say I spent a total of 6 weeks working on the site over a 5 month period.
Traffic
So, I started off in June with a total of 763 unique visitors per month and by October I had 7,156 uniques, a growth of 837%… not bad!
Total unique visits over the 5 months: 10,257
Commissions
Of course I wasn't doing this for the good of my health, and while it's nice to see traffic growing the thing I was really concerned about was growth in commission.
Well the site had gone from earning £72.71 in June £824.29 in October, an increase of 1033%. Certainly a reason to be cheerful!
Total commission over the 5 months: £1980.32
So if we divide our total commission of £1,980.32 by the hours spent (234) this works out at a rate of £8.46 per hour… so far!
So… to November!
Month 6 (November 2012)
As I said right back at the start of this article, a lot of the work involved is front ended and by this point, with the site picking up editorial links and the traffic continuing to grow I didn't need to spend a huge amount of time working directly on the site.
Over the month I published 1 new blog post and 2 guest posts. I did have to do quite a lot of updating on pricing as the merchants I was promoting battled to undercut each other (good news for me!) over the Christmas period, but overall I would say I spent maybe 30 hours on the site over the month.
And the traffic…
Well I stayed above 400 visitors…
And then on the 18th I broke 500 visitors…
And on the 26th I smashed through the 600 visitor barrier (619 to be exact)!
And the commissions…
Well they were rolling in nicely, at an average of about £40 per day.
Here are the stats for November.
Unique Visitors: 11,837 (up 65%)
Commissions: £1,282.42 ($2,046) (up 55%)
Nice! But after 6 months of hard work, the real payoff was about to come in December.
Month 7 (December 2012)
Ok, now for the literal money shot!

They say that pictures tell 1,000 words, so instead of waffling on, here are the screen shots of the December earnings from each of the affiliate networks I was using to promote merchants on the site.
Amazon: £1,789.49 ($2,854)
Affiliate Window: £624.73 ($996)
Other Networks: £26.42 ($42)
Total commissions: £2,440.64 ($3,934 at today's rates)
Here's the traffic for the month. It was pretty much the same as November. The record day was the 10th November, with traffic peaking at 658 visitors.
So, in a 6 month period the site had grown from $0 revenue and very little traffic to $3,934 and just under 12,000 unique visitors.
If we total up the commission for the entire 7 months it comes to £5,703.38 ($9,103).
Not bad for a site which is technically built around 1 product!
Let's Recap How I Got There
So, a final recap of what was done to grow this site and how you can do the same!
Find a good selling product at an attractive price point, which is not oversaturated. Use amazon best sellers to find popular products.

The site is monetised through affiliate marketing with a detailed review and price comparison model on the 'money' pages.

The focus of the site is high quality content with the most detailed reviews available, tutorials, how to guides etc.

Do not copy and paste!!!
Ok, to build a few 'nuts and bolts' links to get you off the ground, but don't go crazy!
Build some better quality links through guest posting
Promote your best content through outreach/social media. Note that it will be easier to attract links to content which is not overly commercial. That's where the tutorials/how tos are great
Work hard!
While I would certainly consider myself to be an SEO expert, I did not employ any shady tricks to get my site up the rankings. I focused on offering true value and high quality content – the kind that google loves.
No need to go mad on links, just get some good quality ones to support your quality content and your site will rise up the rankings.
Remember I did this all post Panda/Penguin and in fact I never really worry about google updates as I know I play by the rules and whilst it can sometimes take a little longer, once you get your rankings you will keep them!
Here is one nice final screen shot showing the traffic growth over the period 🙂
Over To You!
So, that's the story of how I built a site up from $0 to $3,934 in just 6 months. But enough about me… now it's your turn!
There's nothing to stop you creating your own successful affiliate site as long as you are prepared to put the work in. There's no magic, drag and drop formula, so if you get an email offering you one put it straight in the recycle bin where it belongs!
If you have any questions or comments then please leave them below, I'd love to hear from you.
If you would like help or advice on succeeding with affiliate marketing then feel free to drop me an email and be sure to subscribe to the blog by email for loads more helpful tips on SEO and affiliate marketing.
[bigsignup]
So, work hard and I look forward to hearing your own success story!
Update 19/06/2014
My affiliate site in this study continues to rank well, with traffic and sales growing year on year. I used a solid, white hat strategy, based on creating high quality content and real value, which means that I never have to worry about google updates knocking me down. Panda 4.0 actually, brought me increased traffic as did last year's Hummingbird update.
Guest blogging has changed a little in the interim (it still works well, but you have to be careful), so be sure to read my guide to guest blogging in 2014 before looking for guest posting opportunities for your site.
And finally, for more white hat link building methods which you can use on your own affiliate site read my broken link building guide and also check out my new guide to creating Panda and Penguin proof affiliate sites.
Oh, I also revealed the stats for December 2013 here.
Recommended reading: I was partly inspired to write this post (although I'd been thinking about it for a while) by an excellent post by Matthew Woodward on how he built a top 100 blog in 12 months. Have a read here (after subscribing to my blog of course! 😉