I'm a huge fan of wordpress and have been using it to create content sites and blogs for about 10 years. While the 'out the box' functionality is great, there are certain key plugins that I automatically install when creating a new site to help with the site's search engine optimisation, social media sharing, subscribers etc.
Here are 7 'go to' plugins that I would recommend installing on any new site, and best of all they are all completely free!
WordPress SEO
This is the very first plugin I install on any new wordpress site. The plugin, developed by Joost De Valk (YOAST), is an all in one solution for onsite SEO.
It gives you complete control over basic SEO (i.e. your site's title tags, meta tags etc) and sorts out the biggest problem with the default wordpress installation – duplicate content – through proper use of canonical urls, noindex etc.
Don't even look at any other wordpress SEO plugins, this is the Daddy!
Get the plugin here.
Contact Form Plugin
There's no point having an awesome website if no one can get in touch is there? This plugin makes it a doddle to create a basic contact form, which can be embeded in a new page with one simple shortcode.
Get the plugin here.
ShareThis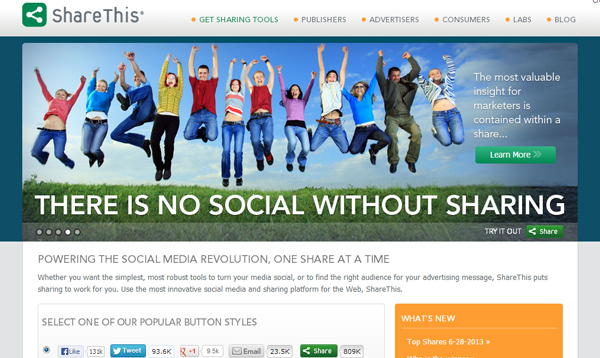 A great little plugin that will automatically add social sharing buttons (facebook like, google+, tweet etc) to the bottom of your posts.
Social proof is so important in a website's rankings these days, so providing your readers with an easy way to share your content is absolutely essential.
Get the plugin here.
Better Author Bio
If you are not using google authorship for your blog, then stop what you are doing (well after reading this post!) and install this plugin now! It's not just for the vanity of seeing your picture in the search results, going forward positioning yourself as a trusted author is going to be so important to ranking your content in the search results.
This plugin will create a bio box at the bottom of your posts, which will link to your google+ account. If you are not sure how to set up google authorship, have a read at this post.
Get the plugin here.
WP Email Capture
Building your subscribers is one of the keys to running a successful blog, so you want to make it as easy as possible for people to sign up to receive your updates. WP Email Capture is a neat little plugin that makes it easy to add a subscription box to your site. The plugin also has the option for sending a confirmation email (so subscribers are doubly opted in) which is useful if you want to give away a free product (such as an ebook) to new subscribers.
Get the plugin here.
Facebook Like Box
Does exactly what it says on the tin! This plugin allows you to quickly add a facebook like box to your blog through the wordpress widget interface with options for showing faces, stream etc.
Get the plugin here…. oh and give our facebook page a like too 🙂
Related Posts Thumbnails
Once you have people on your blog you want to keep them there, so install this great little plugin to automatically add links to related articles at the bottom of your posts. The links include thumbnails, which attract attention and encourage clicks.
Get the plugin here.
Any More?
So, that' my list of 7 essential free wordpress plugins that you should install on any new wordpress site. You've probably guessed it already, but they are all up and running on this very site!
Do you have any other favourite free wordpress plugins that you would like to share? Please leave a comment below and don't forget to use the WP Email Capture plugin to subscribe to this blog 😉