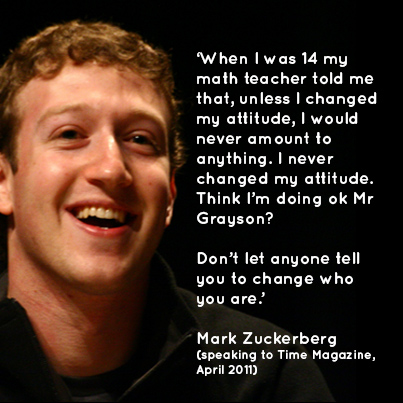 'When I was 14 my math teacher told me that, unless I changed my attitude, I would never amount to anything. I never changed my attitude. Think I'm doing ok Mr Grayson?

Don't let anyone tell you to change who you are.'

Mark Zuckerberg (speaking to Time Magazine, April 2011)
Great quote right and wise words from the king of social networking himself. Only one problem…
Mark Zuckerberg didn't actually say this… In fact, I've no idea if he even gave an interview to Time Magazine in April 2011 and he certainly didn't have a teacher called Mr Grayson.
So who did say it? Well… I did… about 8.30 this morning!
Using quotes in marketing is a very popular tactic for creating viral content, which works particularly well in social media. You probably see them all the time on your facebook page – those pictures of John Lennon or Amy Winehouse with wonderful, motivational quotes, that you just can't help but liking and sharing.
But if you ever actually look into what you are liking (a quick google search of the quote normally does the trick), you will find that a lot of the time the person in the picture never actually said the words associated with them and they are either: –
a) A quote from someone else, or
b) Just completely made up like mine was!
We're All The Same Really
Delving into psychology for a second (well ok, skimming at the edges…) you will notice a pattern to the types of quote that are successful. Things like 'never change who you are', 'don't let anyone tell you you're not amazing', 'you can be whoever you want to be' always go down well. People like to be told that it's ok to be who they are (and I'm not saying it isn't) with all their little idiosyncrasies – and when their heroes reaffirm that belief, they won't be able to click like quick enough.
It's a bit like how astrology works. Sorry if you are someone who believes in that, I don't wish to offend, but it is, well, a load of nonsense. Everyone thinks they are different, but when it comes to it we're all kind of the same really and we see things as speaking directly to us, when in fact they could apply to anyone.
Without going too far off topic and at the risk of sounding like Bob Geldof, it's the very fact we are all so similar that makes it so sad that we just can't all get along. Make tea not war.
So What's The Problem?
Is there any real issue with people making up quotes and attributing them to celebs?
Probably not, although I do think it's a little disrespectful to celebrities that are no longer with us. Fake quotes attributed to dead celebrities always seem to do particularly well (why I mentioned Lennon and Winehouse above) and I just feel this is pushing the moral boundaries a bit.
And if you are trying to build up trust from your audience (success is all about trust these days), do you really want to be giving them incorrect information?
An Experiment
I posted my fake Mark Zuckerberg quote up onto facebook this afternoon as an experiment to see how many likes/shares it generates. Will update this page in a week or so with the results. If you want to help the experiment, you will find the post on our facebook page here, so give it a share!
There's no doubt that marketing with quotes is perfect for social media and the right celebrity and quote can quickly go viral. I think it's a great tactic, but if you are going to use it yourself, then take the time to find a genuine quote. There are so many amazing quotes to choose from (http://www.brainyquote.com/ is a great resource) that you should never need to use fake ones. Ann Smarty from Internet Marketing Ninjas wrote an excellent article on the subject here, which explains how to do it right.
So, the next time you see a quote pop up on your timeline you might want to consider whether the quote is genuine before clicking on like.
[bigsignup]